Sale Dates


Fall & Winter
2020
Event Dates

Sun

Sept 20

9am* -7pm
(please see note)

Mon

Sept 21

9am-7pm

Tues

Sept 22
CLOSED

Wed

Sept 23
9am-7pm
(25% off items**)

Thurs

Sept 24

9am-7pm
(30% off items**)

Fri

Sept 25

9am-6pm
(40% off items**)

Sat

Sept 26

9am-6pm
(50% off items**)

*Due to the crowd size on the first sale day,
No children, infants, carriers or strollers until after 2pm on opening sale day.
Sorry, no exceptions.
** % off only applies to items WITHOUT a NR on tags




Hot News!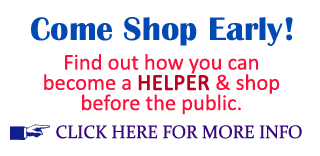 The safety of our shoppers, helpers, and sellers is of our utmost concern. Measures being taken will be posted closer to the event permitting that it is able to proceed safely at that time. If needed also at the time of the event, we will have masks available.
We are not able to send postcards for the Sept event due to the cost in this uncertain time.

Please say a prayer(or many!) for us to be guided on this path in the right direction! God has blessed our family to be able to hold this event for over 25 years and we trust that his plan will show us the right things needed to happen and provide for helper, shopper, sellers to participate and do so safely. We appreciate your support!


Welcome to Kidsignments
Kidsignments is a semi-annual consignment sale held at the Gwinnett County Fairgrounds in Lawrenceville, Georgia. As one of the nation's largest consignment events with over 1,500 sellers, Kidsignments is proud to offer high-quality, gently used items for infants, children, and teens. Many of Gwinnett's smartest parents have discovered the secret of buying and selling with us! Shoppers line up hours before this great event toting laundry baskets, wagons, and even wheeled garbage cans (new of course...) to shop the endless bargains! For most of our shoppers it is a tradition… why not bring your friends and make a day of it? You will not want to miss out! Come see why this event was voted twice "Best Place to Buy Children's Clothing" by Gwinnett Magazine and listed as one of the "101 Things to do in Georgia!" Click here to read more...