About Kidsignments
Kidsignments is a semi-annual consignment sale held at the Gwinnett County Fairgrounds in Lawrenceville, Georgia. Started 29 years ago and having only 24 consigners, Kidsignments has grown into one of the nation's largest consignment events and now accepts 1,500 sellers and occupies two buildings totaling over 30,000 square feet in size! Kidsignments is more than an event, it is a tradition, a community and a great way for families to raise their kids being cost saavy and environmentally friendly! It just makes sense!
Sound pretty good? Here's more info!
We are proud to offer high-quality, gently used items for infants, children, and teens. Many of Gwinnett's smartest parents have discovered the secret of buying and selling with us! Shoppers line up hours before this great event toting laundry baskets, totes, and even wheeled garbage cans (new of course...) to shop the endless bargains! For most of our shoppers it has quite the tradition… why not bring your friends and make a day of it? You will not want to miss out! Come see why this event has become an Atlanta area tradition, voted twice "Best Place to Buy Children's Clothing" by Gwinnett Magazine and listed as one of the "101 Things to do in Georgia!"
What kinds of items are for sale?
We carry clothing ranging in size from preemie to size 16, junior & young men's clothing, plus toys, baby equipment, maternity clothes, and any type of child related item that you can think of! Everything AND the kitchen sink! Well... the sinks are plastic and child size, but we usually have an abundance of them when we open! We usually have many of the houses and pretend play cars, grills, lawnmowers and other play items to go with it! Remember those late assembly nights before Christmas putting together that special item? Save yourself the hassel and come and get one already put together! We even had to rent a second building at the fairgrounds to house all the 'big toy' items we receive! With over 1,500 sellers and buildings totaling over 30,000 square feet, our selection is huge and the bargains are endless! No two sales are ever the same! Kidsignments was even named "The 'Grandmother of All Sales" by the AJC and Gwinnett Daily Post and has been featured numerous times on several Atlanta news stations! This incredible event only happens twice a year and only lasts few days! Don't miss it! We gladly accept cash as well as local checks, Visa,MasterCard, American Express and Discover and touchless payment options such as ApplePay & GooglePay.
Why sell with Kidsignments?
Remember that last garage sale? Did it rain? Was it hot or freezing cold? Did you haggle only to 'give away' your name brands for less than a dollar? Did you sit outside in your driveway for a day or two feeling uncomfortable with all the people coming to your home? You could sell your items online, take pictures of each item, post, wait for each item to sell and then box, label, seal and drag them to the post office....or post on Marketplace and then drive to meet up to maybe sell your items or maybe not.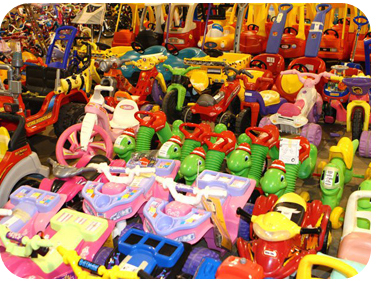 Kidsignments saves you the hassle and allows you to sell your items for more than you would typically get at a garage sale for a fare price that you determine. Our two buildings offer over 30,000 square feet of climate-controlled shopping space and invites shoppers to 'come and stay awhile.' Unlike garage sales, shoppers come to our event specifically looking to purchase their child's entire wardrobe for the season and are not looking for the 'play-condition' clothes usually found at yard sales. Many shoppers even come to shop for Christmas gifts! Many thousands of shoppers enter our doors during the 6-day public event and 2 day of preview events providing your items much shopper exposure.
When consigning, you will have the opportunity to pick up your items that do not sell during the sale at a designated pick-up time. (Usually held on the Monday following the sale) Some sellers, however, chose not to pick up their unsold items and instead graciously allow us to donate them to charity. The local charity we donate to (the Lilburn Co-Op) is very appreciative or each item that they receive. We have been told that they have come to depend on this event to help restock their supply of children items. Receipts for donated items can be obtained directly from the Co-Op.
Who sets the prices?
At Kidsignments, the sellers tag and price their own items (Kidsignments does not determine the price) and then bring the items to us to sell for them. Generally, prices are about 20-40% of what the item cost when it was new. The seller then receives 70% of the selling price of their items. (Less a $11.50 consigners fee and also the current cost of a stamp for mailing their check.) Kidsignments retains 30% as well as the one-time-per-event charge of $11.50 to assist with rent, heat/air, mailings/postage, advertising and the other costs associated with running a sale of this size. The cost of a stamp is also deducted from the final check amount. Most of our consigners sell 80-90% or more of the items they brought us to sell! Anyone can sign up to sell with us, but they must pre-register to participate. We even have sellers that plan trips to Atlanta from out of state in order to participate in the sale!